Ideas Fair: 24/1/2023 
6-7pm Club room, All welcome! JCR/MCR/SCR
Exciting news! Churchill's Creative Workshops are now under construction!
For the launch celebration of the workshops there are lots of creative projects going on around college.  Come along to find out more and get involved.
There will also be the opportunity to share your own ideas!
 Ideas fair: 24/1/2023  6-7pm Club room (off the main concourse).  Refreshments provided
All welcome! JCR/MCR/SCR
To help with catering, sign up on this google form
Programme:
6pm: Refreshments & conversation
6:25 Lightning pitches of all current projects
6:35 Time for informal small-group discussions, ask questions and sign up in any you are interested in
Projects
Cambridge Bicycle Orchestra
Music on bikes? Music made out of bikes? This project harnesses creativity, science, and engineering to make music sustainably using upcycled bicycles.
We're looking for people who want to design, make, compose and generally have fun making music out of bicycles!
'Concert' opportunity at the Creative Workshops launch and possibly the opportunity to get involved in festivals too 🙂
Contact: Ewan Campbell (eahc2@cam.ac.uk)
Innovation for sustainable development
Design and build a sustainable temporary home…
Contact:  Rachel Thorley (rachel.thorley@chu.cam.ac.uk)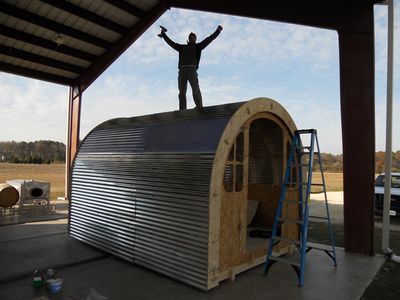 Lego Churchill
What's your favourite place in Churchill College? It would be awesome to build a scale model of Churchill, brick for brick 🙂  King's Chapel eat your heart out!!
Contact: Rachel Thorley (rachel.thorley@chu.cam.ac.uk)
Climate Studio
Climate studio is a one-of-a-kind initiative for experiential learning. It aims to bring together arts and sciences to co-produce creativity for climate communication using illustrations, fun experiments and a living laboratory. The inaugural project uses thermal imaging to capture the invisible (heat!) in a student's daily life. Infrared photography is envisaged as a storytelling medium for climate action, like reducing heat loss, optimizing solar gains and preventing overheating. This studio encourages collaborative thinking across STEM and non-STEM disciplines and is open to everyone.
Contact: Ramit Debnath (rd545@cam.ac.uk)

Virtual Reality
BBCW will have virtual reality devices for students. Through the collaboration between an JCR architectural and an MCR engineering student at Churchill, a virtual Churchill had been developed. We are now looking for enthusiasts to work on new virtual and augmented reality projects at Churchill. Some devices will be made available on the day to try. Come along and check it out!
Contact: Bang Yong (bmy22@cam.ac.uk)
Got an idea?
Share your ideas and collaborations! The more creative the better 🙂 Come along to the ideas fair 24/1 or contact:
Contact: Barry Phipps (bjp31@cam.ac.uk)